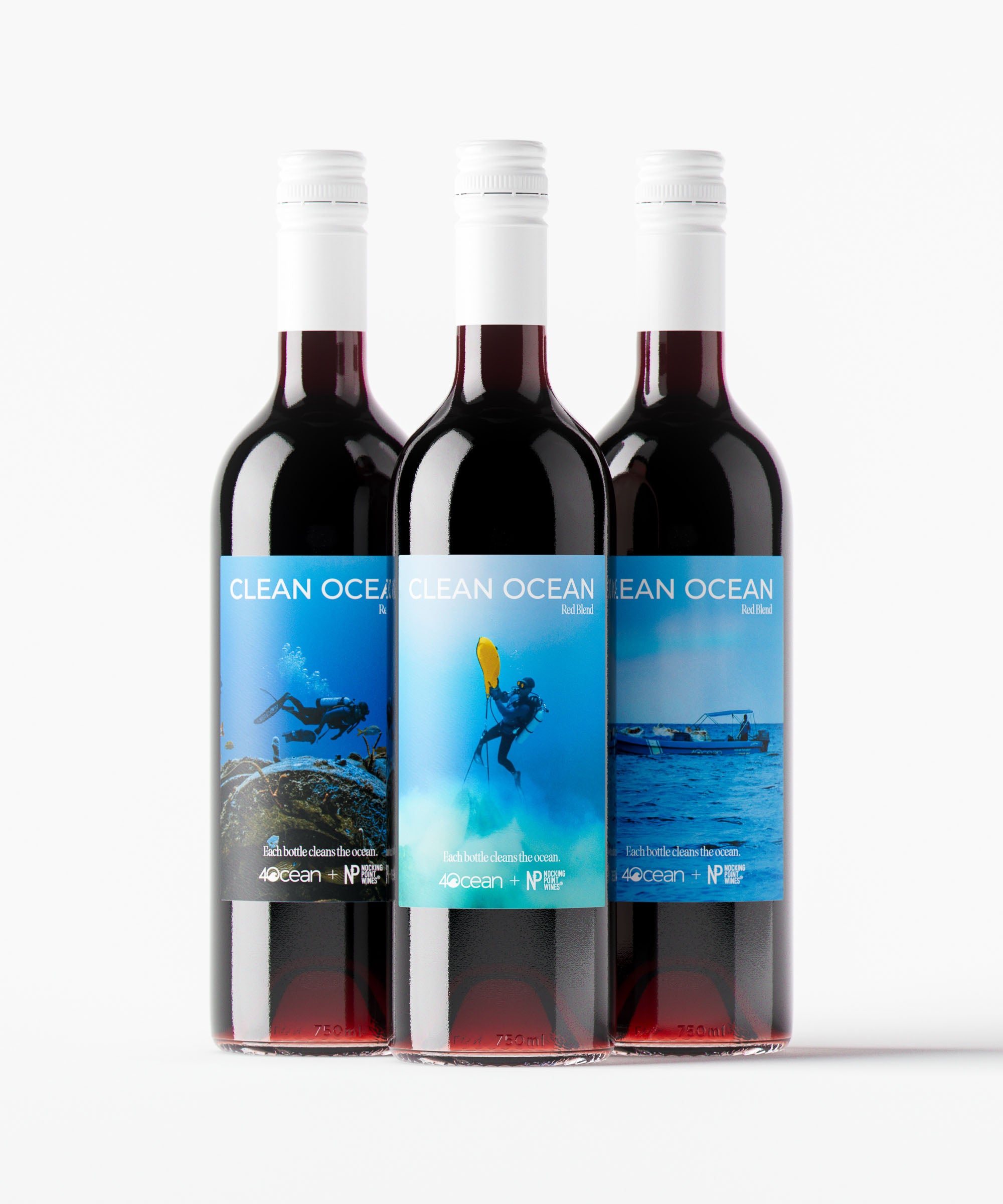 EVERY BOTTLE SOLD REMOVES 1 POUND OF TRASH FROM OUR OCEANS! 
4ocean is on a mission to end the ocean plastic crisis and is one of the only companies in the world that hires full-time captains and crews to recover plastic waste and other man-made debris directly from the open ocean and environments where plastic is at high risk of entering the ocean. This includes select rivers as well as vulnerable coastal ecosystems like mangrove forests, coral reefs, estuaries, and beaches.  We're super happy to collaborate on this project and to contribute to this important cause! 

This collaboration features 3 different labels that tell the story of 4ocean's mission! Order a 3 pack to receive one of each label! 
The Wine:
Blend: 67% Cabernet Sauvignon / 33% Syrah
Appellation: Walla Walla, WA
Notes:  Ripe strawberries, raspberries, and cherries, along with hints of spice.
Palate: Medium-bodied. Flavors of red berries, plum, and a hint of black pepper. The tannins are soft and supple, giving the wine a smooth and easy-drinking quality. There is a touch of acidity on the finish, which adds freshness and balance to the wine.
Pairs well with: Roasted chicken, grilled vegetables, or even pizza!
Please drink responsibly! 
MORE THAN 32,000,000 POUNDS OF TRASH RECOVERED FROM THE WORLD'S OCEANS, RIVERS, & COASTLINES SINCE 2017.
As plastic pollution and climate change continue to impact the marine environment, communities that rely on the ocean for their livelihoods are finding it increasingly difficult to earn a living and often have few alternatives for steady work. 
4ocean has always been committed to hiring people who live in the communities we serve. All of our captains and crews are hired full time and paid fair living wages. We also cover all health insurance costs and provide additional benefits and bonus incentives. 
The jobs we create help counteract the economic impacts of plastic pollution, incentivize environmental stewardship at the local level, and bring new opportunities for growth, equality, education, and prosperity to our crew members, their families, and their communities.
LEARN MORE