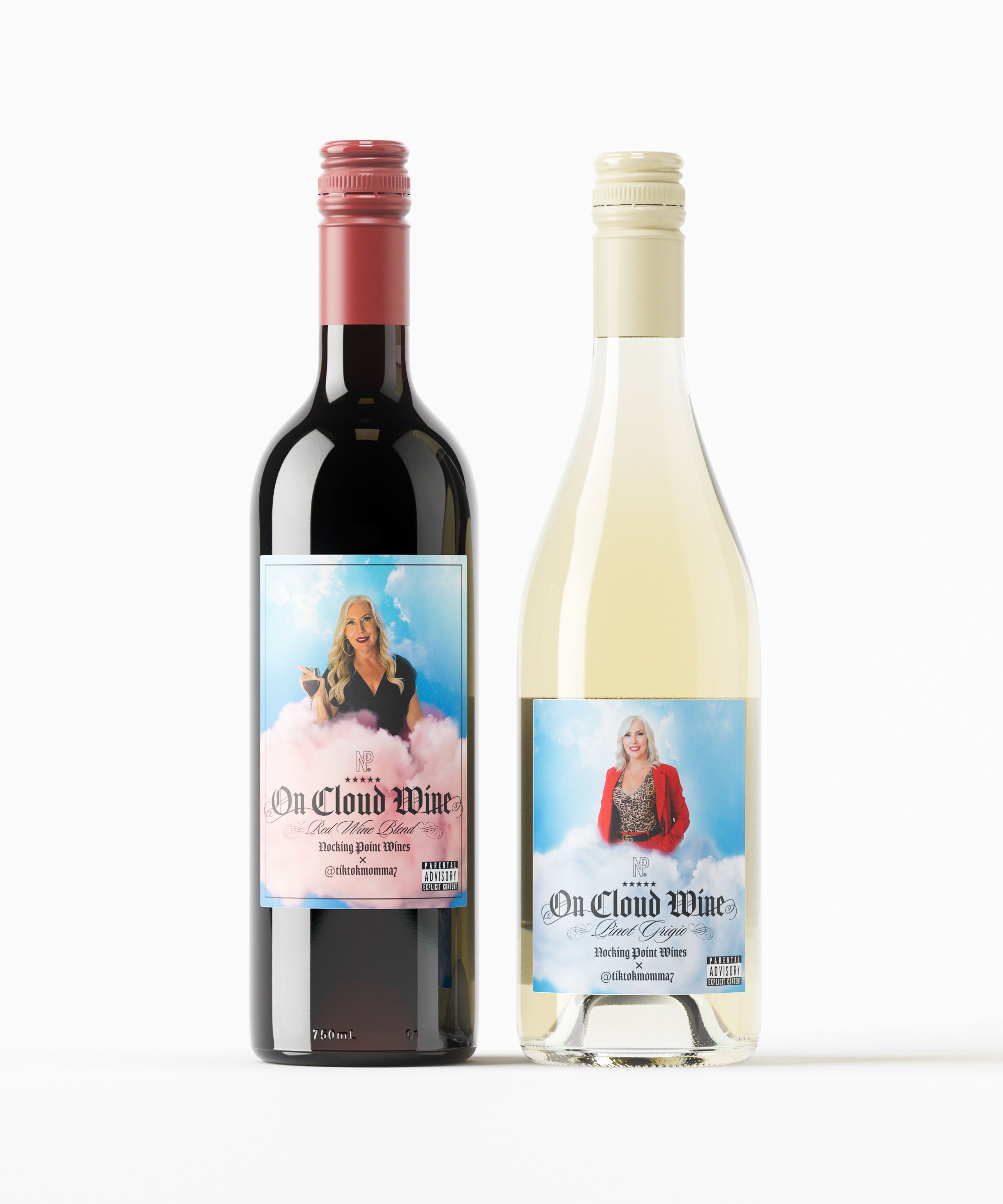 "On Cloud Wine" by TiktokMomma7 Duo
It's double the "fun" with @TikTokMomma7, Trisha Marroquin's "On Cloud Wine" duo! One bottle of "On Cloud Wine" Red Blend and one bottle of "On Cloud Wine Pinot Grigio" will have you ready to sip and celebrate the night away! Twist it open and let's get this party started on cloud wine!
Make sure you share your bottles online and tag @tiktokmomma7 and @nockingpoint we love to see you enjoying our favorite beverage!
"On Cloud Wine" by TiktokMomma7 Duo
RED BLEND
The Wine
Blend:Merlot | Cabernet Sauvignon | Syrah(2017)
Appellation:Wahluke Slope, Columbia Valley, WA
Notes:Plum, huckleberry, high-cacao chocolate.
Palate:Full bodied, bright acidity, fruit forward.

What to look for: It's the perfect companion for whatever's on Momma's menu—from grilled steak to tacos, it's fixin' to be your go to wine at every meal. Best of all, you can sip it with friends and get down on the dance floor! Cheers!
SHOP RED BLEND
PINOT GRIGIO
The Wine
Blend: 100% Pinot Grigio
Appellation: Washington State
Notes: Pear, white peach, guava
Palate: Light, refreshing, subtle minerality
Taste Like: A great time after a long day!
What to look for: This Pinot Grigio is a true crowd pleaser! Just pop it in the fridge, get it nice and cold and get ready to DANCE! It's luscious fruit flavors are great to pair with a variety of light fare, but just as tasty as a standalone sipper! Momma drinks it with her specialty Caldos and her 'back that ass up' playlist!
SHOP PINOT GRIGIO
GIFTING? WE GOT YOU!
Gift your friends & family what they really want: Wine, Coffee & Nocking Point goodies with a custom gift message, wrapped in tissue paper.

Just click the "Add A Free Gift Message" button above & craft your custom note!