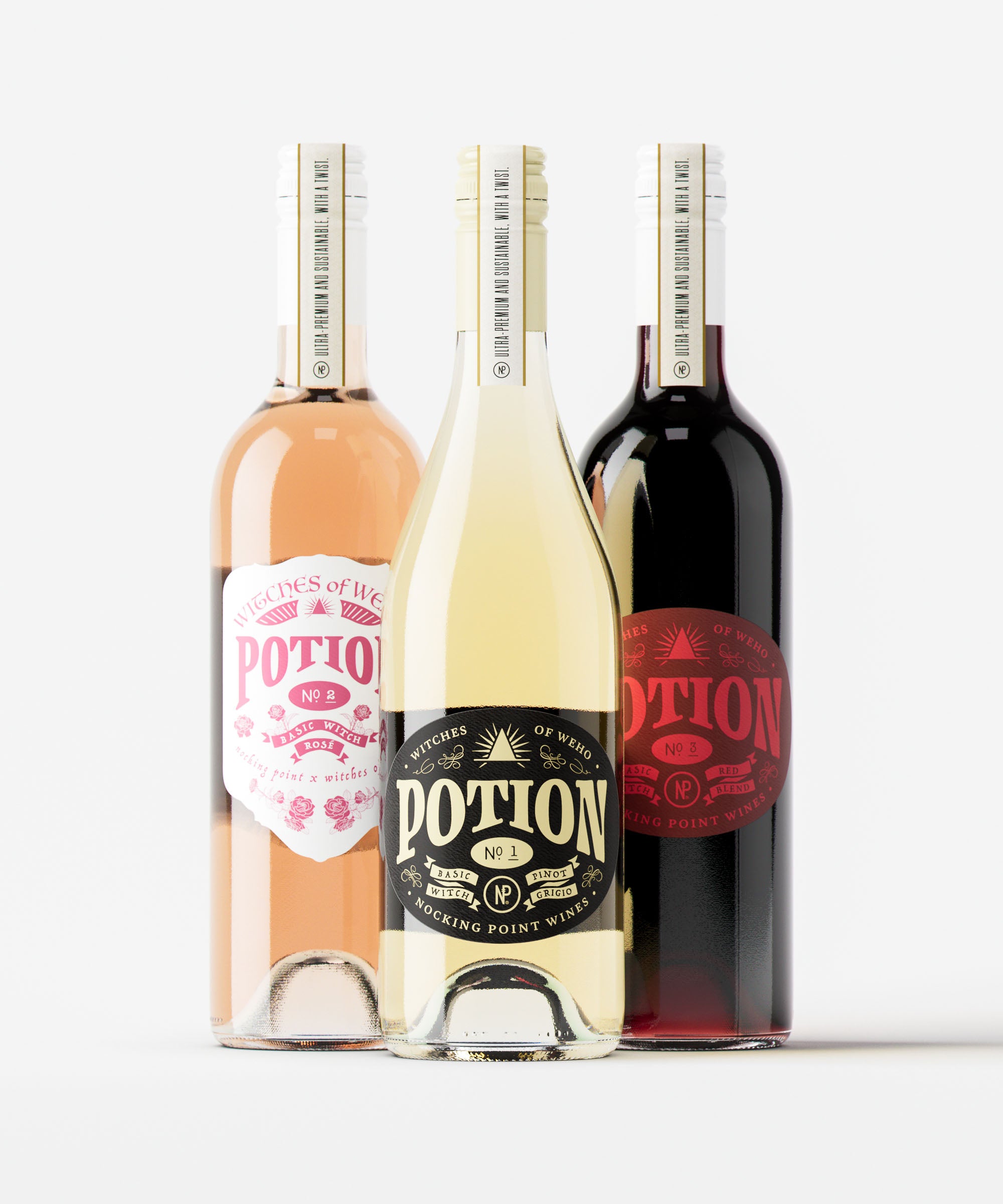 The Potion Trio by Kristen Doute & Katie Maloney
It's the exclusive return of Potion No. 2 Rosé from the NP Vault! 
Be bold this spooky season with the extra-witchy  Potion 1-2-3 Trio from Kristen & Katie! With ingredients including the tears of your exes, the blushes of your crushes, and the shame of your enemies, there's a little bit of everything in this mysterious box.  Enjoy Potions  No. 1 &  No. 3, as well as the elusie Potion No. 2 as it emerges from the NP Vault. Limited quantities available! 
The Potion Trio by Kristen Doute & Katie Maloney
POTION NO. 1
The Pinot Grigio:
Blend: 100% Pinot Grigio
Appellation: Washington State
Notes: Subtle notes of white peach & lemon zest with a hint of something more elusive lurking in the background.
Palate: Enigmatic character, full-bodied, fine tannins.
Taste Like: A journey into the unknown, as the wine seems to transform with each sip.
About the wine: Overall, this Washington Pinot Grigio is a wine of great intrigue and depth. Its mysterious character makes it a fascinating choice for those seeking a wine that is both complex and captivating.
BACK FROM THE VAULT!
POTION NO. 2
The Wine:Blend: 70% Grenache | 30% Sangiovese
Appellation: Walla Walla, WA
Notes: Unearthed from the NP vault comes a mysterious Rosé with notes of grapefruit, cherry, lemon, and Rosé petal.
Palate: Delicate flavors, bright acidity, dry style, and light bodied
Limited Quantities Available: Wines from the vault are super limited, this one won't be here for a long time!
POTION NO. 3
The Wine:Blend:67% Cabernet Sauvignon / 33% Syrah
Appellation: Walla Walla, WA
Notes:Enveloped within the depths of shadows lie the complexities of an elixir, an enigma woven with intrigue. Behold, a potion of dark allure, its aromatic tendrils caressing the senses with mystic whispers. A symphony of nocturnal flavors unfolds, with whispers of obsidian berries—blackberry, black currant, and the forbidden dark cherry—dancing upon the palate.
Palate:Within its enchanting depths, the essence of dark fruit reigns supreme—a dance of blackberry, plum, and the enigmatic black cherry. Yet, it is the bewitching embrace of spicy whispers, cloaked in black pepper and cloves, that adds a mystical enchantment to this tantalizing brew.
Pairs well with: Your besties, summer, and a toast to the shame of your enemies!
MORE FROM THE WITCHES OF WEHO
Send as a gift.
Gifting? We got you.
Gift your friends & family what they really want: Wine, Coffee & Nocking Point goodies with a custom gift message, wrapped in tissue paper.

Just click the "Add A Free Gift Message" button above & craft your custom note!